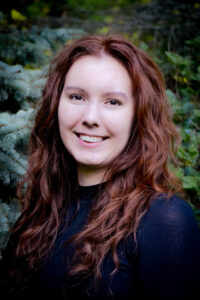 My Mission
It is my mission to never stop learning. I love learning and sharing my knowledge with others. I will give each client my best and make each experience personalized and fun! I want to broaden my knowledge of the local areas even more, and share what I learn with others so they can enjoy this area just as much.
My Story
I was born and raised in Northern MI, coming from Bellaire before moving to the bustling town of Traverse City. I am a reliable, hard-working person with an aptitude for art and design that reflects in my day-to-day. I strive to help others enjoy the buying and selling process of real estate and believe in integrity above all else as well as making clients confident in my ability. I have a degree in Visual Communications from Northwestern Michigan College in Traverse City, where I studied Graphic Design. I have been working in the industry for over 10 years where not only have I created many design pieces, but I have developed key communication skills and I strive to uphold expectations. I enjoy creating interior spaces for people to enjoy, spending quality time with our dog, Aspen, and my husband, Josh Mason, as well as hunting for old treasures and repurposing them to give them new life. I believe this will be a fun and exciting experience and not stressful; I am passionate about facing challenges and learning the techniques and skills to guide clients through the complex world of real estate. I love to learn new things and I am excited to start my new real estate journey, helping others find their place to call home.
Contact
Phone: 231-676-4018
Email: mariahmason@lakeviewmanagement.com
Recent Sold Properties
In the transactions listed before I represented either the Buyer or Seller.